"Headstands: Grounding from Head to Toes" - taught by MARIAN TARÍN & MIGUEL JORGE JR.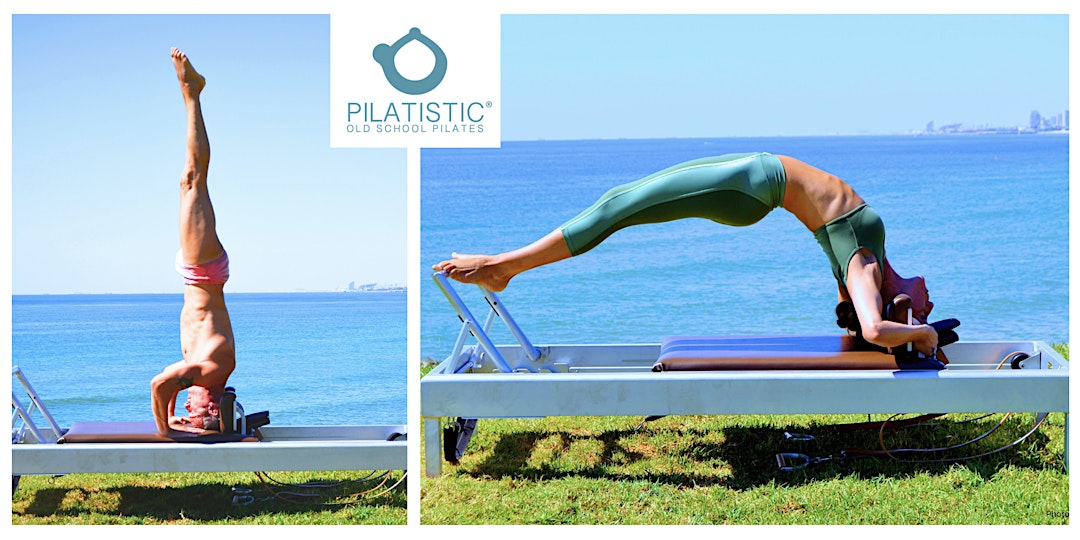 DID YOU KNOW THAT HEADSTANDS...

1. Help Relieve Stress and Increase Focus: when turning upside down, you draw your attention inwards and increase blood flow to your brain.  

2. Enhance Mood: headstands can stimulate and provide refreshed blood to the pituitary and hypothalamus glands. These are considered the master glands that regulate all other glands in the body (thyroid, pineal, and adrenals). Once those adrenal glands are optimized, you can create more positive thought.

2. Improve Digestion: intestines are stimulated by reversing the pull of gravity, while the colon can release congested blood.

3. Decrease Fluid Build-Up In The Legs, Ankles, And Feet: any fluid retained in the feet is able to drain, which can reduce the onset and prevalence of varicose veins.

And of course, Strengthens your Powerhouse!

Headstands require a lot of preparation to ensure a full body implication rather than an isolated neck effort. In this workshop you will learn how to connect the head to your center by developing the necessary strength, articulation and balance and avoid strain and compression in the cervical area when performing these advanced exercises on the Reformer. Marian and Miguel will teach you, step-by step, how to progress from the most foundational movements to their highest expression and set up the body in different apparatus for the full inversion on the crown. Be ready for a fun new upside-down perspective on the Method!
 
PILATISTIC® is committed to accommodate our world community.
That is why, from the comfort of your home or studio, you will be able to enhance your skills with our live workshops, always taught both in English & Spanish simultaneously.
--------
¿SABÍAS QUE HEADSTANDS (LAS INVERSIONES DE CABEZA) ...

1. Ayudan a aliviar el estrés y aumentan el enfoque: cuando te pones boca abajo, atraes tu atención hacia adentro y aumentas el flujo de sangre a tu cerebro.

2. Mejoran el estado de ánimo: la posición de cabeza puede estimular y proporcionar sangre renovada a las glándulas pituitaria e hipotálamo. Éstas se consideran las glándulas maestras que regulan todas las demás glándulas del cuerpo (tiroides, pineal y suprarrenales). Una vez que esas glándulas suprarrenales están optimizadas, puedes crear pensamientos más positivos.

2. Mejoran la digestión: los intestinos se estimulan invirtiendo la fuerza de la gravedad, mientras que el colon puede liberar sangre congestionada.

3. Disminuyen la acumulación de líquido en las piernas, los tobillos y los pies: cualquier líquido retenido en los pies puede drenar, lo que puede reducir la aparición y la prevalencia de las venas varicosas.

Y, por supuesto, ¡fortalece tu POWERHOUSE (centro de fuerza)!

Los Headstands requieren mucha preparación para garantizar una implicación de todo el cuerpo en lugar de un esfuerzo aislado del cuello. En este seminario aprenderás cómo conectar la cabeza a tu centro desarrollando la fuerza, articulación y el equilibrio necesario para evitar tensión y compresión en la zona cervical al realizar estos ejercicios avanzados en el Reformer. Marian y Miguel te enseñarán, paso a paso, cómo progresar desde los movimientos más fundamentales hasta su máxima expresión y preparar el cuerpo en diferentes aparatos para la inversión total sobre la coronilla. ¡Prepárate para una nueva y divertida perspectiva invertida del Método!

PILATISTIC®, comprometido a acomodar a nuestra comunidad mundial.
Por eso, desde la comodidad de tu casa o estudio, podrás potenciar tus habilidades con nuestros talleres en vivo, siempre impartidos tanto en inglés como en español simultáneamente.
---
Saturday Oct 17th, 2020

Address: Carrer del Centre, 14 B  08391 Tiana, Barcelona
Phone: +34 934 657 630
---

About Pilatistic

Pilates is a functional training with over 100 years of existence which main goal is to improve the quality of the human being through corrective exercises. At PILATISTIC Old School Pilates we respect the tradition of the Method and therefore, like Joe, we work for all our clients to achieve a healthy and athletic body regardless of age, lifestyle or medical history. We individually assess the initial state of all students and, from there, evolve them into balance to maximize their physical potential. And this process is carried out in an atmosphere of happiness and harmony due to the passion we feel for our profession and the trust we have in our work. 
September 2014 Featured Studio
Pilatistic

Gratz Gallery
Marian Tarin